※1:It is the lowest price for applying for 90 uses plan with packages within 2.5kg.
※2:30 days
Plan cost
Buyee Air Delivery Taiwan shipping fee is up to 2,500 yen per use!
You can choose a plan that suits you!
When shipping the following packages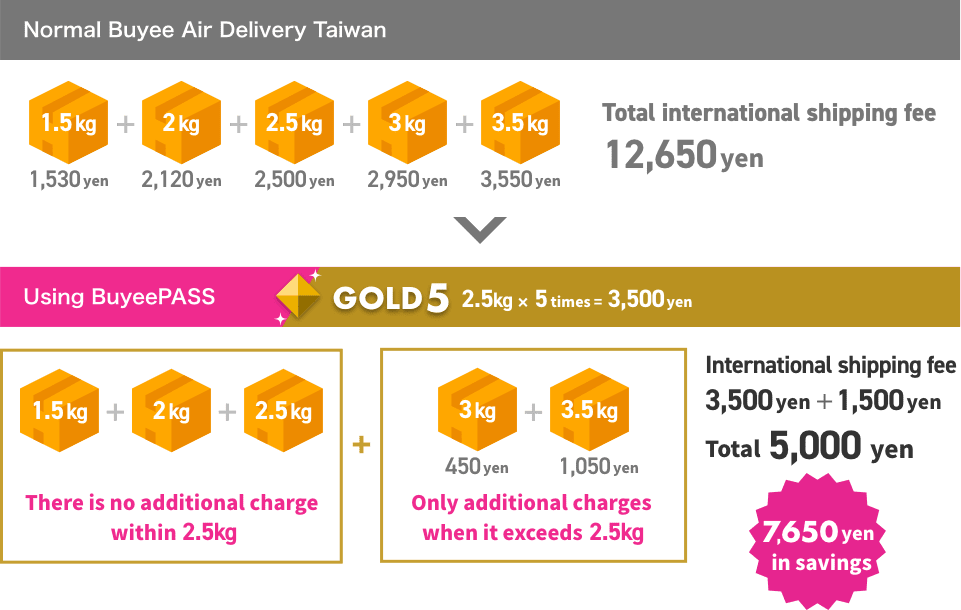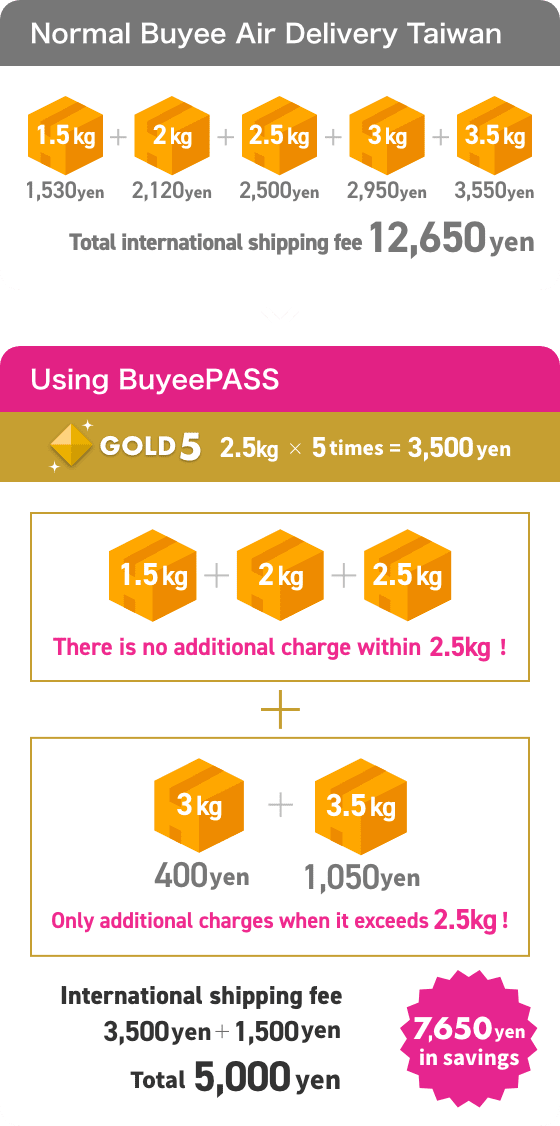 Q & A
Is there an expiration period for BuyeePASS?

It can be used for 30 days from the date of purchase.

example:
If you purchase on July 1st you can use it until July 30th.
If you purchase on July 15th you can use it until August 13th.

If a number of uses remains, can I transfer them over to the next period?

You can't transfer remaining uses.

About automatic update and cancellation

If the cancellation procedure has not been completed the day before the last day of the validity period, it will be automatically updated on the last day of the validity period.

example:
If you apply for 10:00:00 on July 10:
Validity period: July 10th 10: 00:00 to 09:59:59 on August 9th.
If the cancellation procedure is not performed by 23:59:59 on August 8 (Japan time), it will be automatically updated in August 9.

Please note that the validity period and the deadline for cancellation are different.
When the cancellation procedure is completed, you can still use it until the expiration date.

[In case of renewal]

[Cancellation]

I want to buy a product, but I don't know the weight.

You can refer to the average weight of the products that are often purchased.

T-shirts, pants, sneakers

0.5〜1.5kg

Bags

0.7kg〜4.5kg

Toys, figures

0.5kg〜3kg

Glasses, watches, ties

0.2kg〜0.5kg

The weight of purchased products differs depending on the material and type. Please note that the weight described here is just a reference
If the international delivery fee is less than 2,500 yen, you can ship with the plan without additional international shipping charges. (If the shipping fee exceeds 2,500 yen, the difference will be borne by the customer).
Refunds cannot be made if they Pass is not used during the validity period or have remaining uses left by the expiration date.
If you cancel a shipping of a package using BuyeePASS, the uses left will during the validity period will be restored. If it occurs outside the validity period, the number of times used will not be returned and no refund can be issued.
Available only for Buyee Air Delivery Taiwan.

About Buyee Air Delivery Taiwan

Convenience store pick-up fees and and home delivery costs inTaiwan are not covered by BuyeePASS.
How to apply
STEP1

From your My Page> "Member Information Management"> "BuyeePASS".

STEP2

Click on the application button!

STEP3

Please select a plan and select the payment method. After selecting, click the confirmed button to complete the application!

STEP4

You can use BuyeePASS!
You can check the application status, usage history, update date and time, etc. from the "BuyeePASS" page
Notes when using Buyee Air Delivery Taiwan
The following packages cannot be delivered with Buyee Air Delivery Taiwan
The size and weight of the package exceeds the service limit

Products with the total cost of 170,000 yen or more

Food, drinks, alcohol

Some items with a built -in lithium battery

Buyee Prohibited Items

Medical supplies, devices, or hygiene items
Get your items with Yahoo! JAPAN Auction!
Recommended special feature
What is Buyee proxy shopping service?
Buyee is a service that purchases products on behalf of customers and sends the packages internationally.
From purchase to international delivery, Buyee takes care of everything.
So it's much easier to use compared to forwarding services.
The fees for Buyee service are also exceptionally cheaper than using forwarding services. So please take a look around!
Reasons you should use Buyee as your proxy shopping service
Able to interact with many e-commerce sites

You don't need to be able to read Japanese

Exceptionally low prices in the business

A range of delivery methods

No need for identity verification

Lots of ways to pay

Safe and reliable service